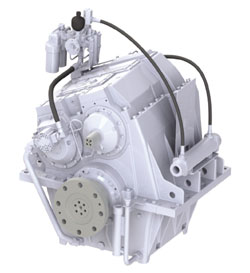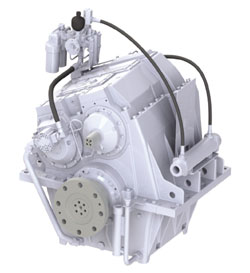 Power/RPM KW/RPM (HP/RPM)
Maximum rated input KW(HP)
Ratio
Maximum Input RPM
1.560 (2.092)
2574 (3452)
2.425
1650
2.524 (3.385)
3761 (5043)
2.457
1490
2.485 (3.332)
3762 (5045)
2.495
1514
2.126 (2.851)
3508 (4704)
2.917
1650
1.560 (2.092)
2574 (3452)
3.976
1.404 (1.883)
2317 (3107)
4.418
1.260 (1.690)
2079 (2788)
4.922
1.170 (1.569)
1931 (2589)
5.299
1.086 (1.456)
1792 (2403)
5.711
1.170 (1.569)
1931 (2589)
6.762
1.086 (1.456)
1792 (2403)
7.288
Dry Weight kg(lb)
3650 (8050)
SAE bell
–
Offset type
Coaxial
Description
Robust design and easy onboard maintenance.
Robust design also withstands continuous duty in workboat,dredger applications.
Fully works tested, reliable and simple to install.
Reverse reduction marine transmission with hydraulically actuated multi-disc clutches.
Case hardened and precisely ground gear teeth for long life and smooth running.
Robust cast iron casing for direct or remote mounting.
Emergency "get home" capability..
Design, manufacture and quality control standards comply with ISO.
Suitable for twin installation with 100% rated power in ahead and astern condition.
Standard Equipment
Oil cooler complete with fittings and flexible hoses.
Integrated Brackets.
Free Standing.
Lube Oil Pump.
Options
Engine-matched torsional coupling.
Propeller shaft flange and coupling bolt set.
Classification by all major Classification Societies on request.
PTO (live or clutchable).
Electric trolling valve for slow-speed drive.
Shaft brake.
Electric clutch control.
English

5 rue Henri Cavallier, 89100 Saint
Denis les Sens - France
+33 (0)3 86 95 62 00