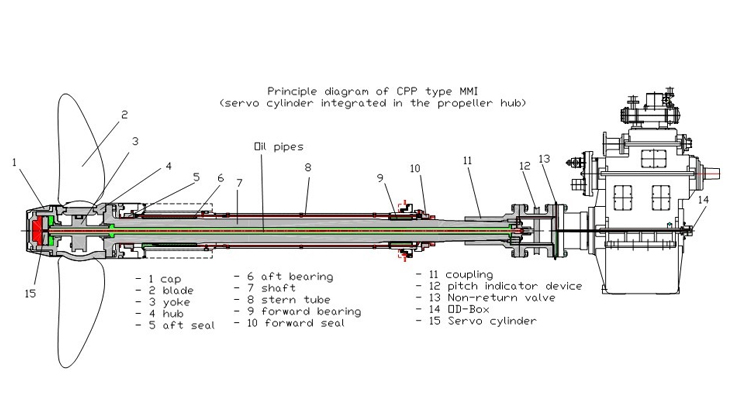 Oil or water lubricationCustom design and manufacturing
Blades and propeller hub made of NiBrAl
Description
compatible gearbox
P/n (engine power / propeller speed) (kW/rpm)
Examples of transmitted power (kW) for given propeller speeds
200 rpm
250 rpm
300 rpm
MM W20000
15
3000
3750
4500
| Maximum shaft diameter (mm) | Max diameter A (mm) (propeller) | B (mm) (Hub) | D maxi (mm) | E (mm) | I mini (mm) | J maxi (mm) | L (mm) |
| --- | --- | --- | --- | --- | --- | --- | --- |
| 285 | 3600 | 780 | 780 | 550 | 500 | 1245 | 1485,5 |
For dimensions, please refer to the drawing below.
Features
MMI propellers have a system allowing to spot hydraulic leaks if a problem should arise. It enables us to determine whether the oil leak can be fixed from inside or from the outside of the ship.
Each propeller system is determined individually for your ship, and a specific comprehensive installation drawing is made.
The optimal blade profile is computed and drawn for each project individually.
Propeller hub and blades are made of NiBrAl
Emergency system for come-home operation after a major hydraulic or electric breakdown.
Options
The stern tube can be lubricated either by water or oil.
The OD-box (oil distribution box) can be fitted to the gearbox or set up separately.
The propeller shaft can be supplied in C 45 grade steel or 316 L stainless steel.
High skew blade open water propeller for significantly reduced cavitation.
Adding a nozzle will increase propeller thrust by approximately 20 %.
Our propellers receive approval by all survey and classification organisations.