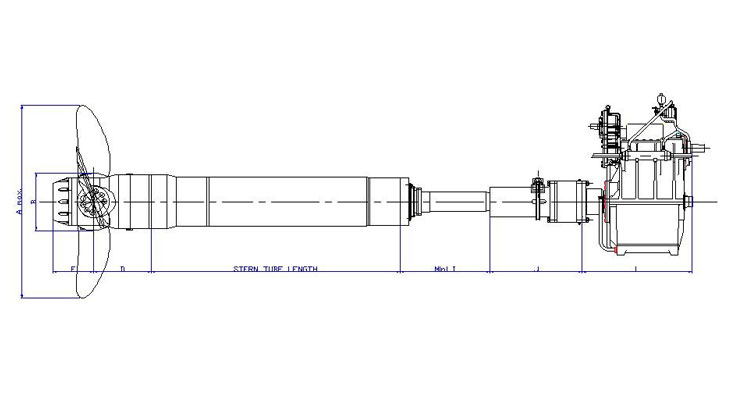 Oil or water lubrication Custom design and manufacturing
Blades and propeller hub made of NiBrAl
MMS Design
Masson-Marine offer two types of CPP design, see below MMS design:
MMS (Masson-Marine Separated): the servo cylinder controlling the blade angle is located on the propeller shaft, inboard. The advantage of this system is that maintenance operations do not require the dry-docking of the ship.
Please have a look at the sketche for better understanding.
Description
compatible gearbox
P/n (engine power / propeller speed) (kW/rpm)
Examples of transmitted power (kW) for given propeller speeds
350 rpm
450 rpm
610 rpm
on request
0,6
210
270
366
| Maximum shaft diameter (mm) | Max diameter A (mm) (propeller) | B (mm) (Hub) | D maxi (mm) | E (mm) | I mini (mm) | J maxi (mm) | L (mm) |
| --- | --- | --- | --- | --- | --- | --- | --- |
| 100 | 1350 | 300 | 392 | 108 | 250 | 610 | on request |
For dimensions, please refer to the drawing below.
Each propeller system is determined individually for your ship, and a specific comprehensive installation drawing is made.
The optimal blade profile is computed and drawn for each project individually.
Propeller hub and blades are made of NiBrAl
Emergency system for come-home operation after a major hydraulic or electric breakdown.
The stern tube can be lubricated either by water or oil.
The OD-box (oil distribution box) can be fitted to the gearbox or set up separately.
The propeller shaft can be supplied in C 45 grade steel or 316 L stainless steel.
High skew blade open water propeller for significantly reduced cavitation.
Adding a nozzle will increase propeller thrust by approximately 20 %.
Our propellers receive approval by all survey and classification organisations.