This kind of system uses transmissions with 3 clutches: 1 for reverse, 1 for high speed ahead, and 1 for "low speed ahead" drive.
All Masson-Marine dual speed gearboxes have clutch-controlled 2-way output power take-offs (PTO) – see chapter 'PTO/PTI' – which drive large pumps and hydraulic motors for the fishing winches and cranes.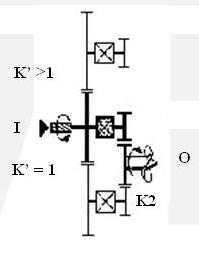 This type of transmission is particularly suitable for smaller fishing craft. It allows the boats to travel at high speed, when heading for the fishing grounds or returning home, and crawl at low speed while using on-board machinery (winches etc.). All this without increasing the weight of the ship because of additional generators (which would mean higher cost and higher weight). In this way, the user can operate the engine at its nominal speed (for optimum power and efficiency), and still have a slow fishing speed. Less weight is very important for "smaller" fishing boats that still have to be able to make good speed when returning to their port to sell the catch, and maximise hold.
The difference between high speed and slow speed varies from 5 to 15 % so that optimum efficiency in both gears will not be impaired.
Unlike with a "trolling valve", the user can operate his auxiliary equipment in continuous fashion.
The system is also less costly than a controllable pitch propeller.